Do You Suspect Mold in Your Home or Business?
8/11/2017 (Permalink)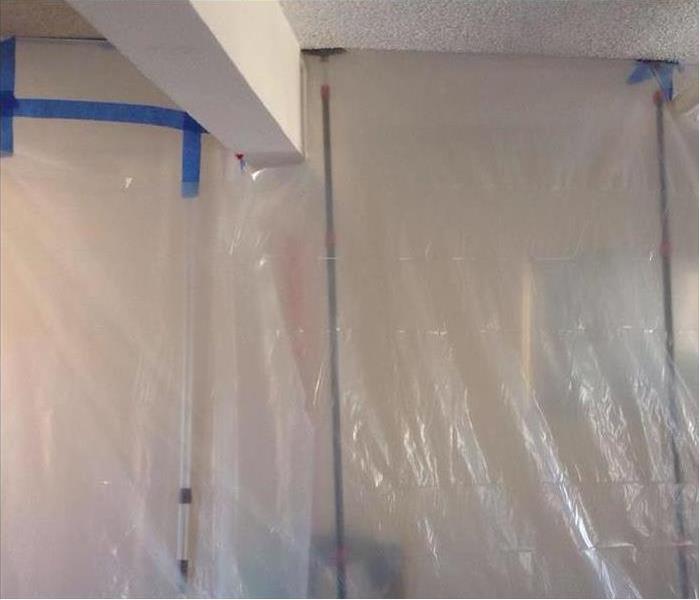 Proper containment is essential during the mold remediation process. Doing so prevents mold spores from contaminating unaffected areas.
If you are a homeowner or a business owner and you suspect you might have mold in your home or business, it is very important that you act quickly because the longer you wait to investigate the worse it could get.
Stachybotrys chartarum is the type of mold often called black mold, and it does produce allergens and irritants. However, many types of mold can produce allergens and irritants. Treat any mold with caution – stay out of affected areas and don't touch or disturb the mold.
When water intrudes into your property, mold growth can start in as little as 48 hours. Consider the following mold facts:
Mold is present almost everywhere, indoors and outdoors.
Mold spores are microscopic, float along in the air, and may enter your home through windows, doors, or AC/heating systems or even hitch a ride indoors on your clothing or a pet.
Mold spores thrive on moisture. Mold spores can quickly grow into colonies when exposed to water. These colonies may produce allergens and irritants.
Before mold remediation can begin, any sources of water or moisture must be addressed. Otherwise the mold may return.
Mold often produces a strong, musty odor, and that odor can lead you to possible mold problem areas.
Even higher-than-normal indoor humidity can support mold growth. Keep indoor humidity below 45 percent
SERVPRO of North Richland Hills specializes in Mold Remediation.
If you see signs of mold, call us today - (817) 589-1499