Why SERVPRO is the Leader in Fort Worth Water Damage Restoration
3/11/2021 (Permalink)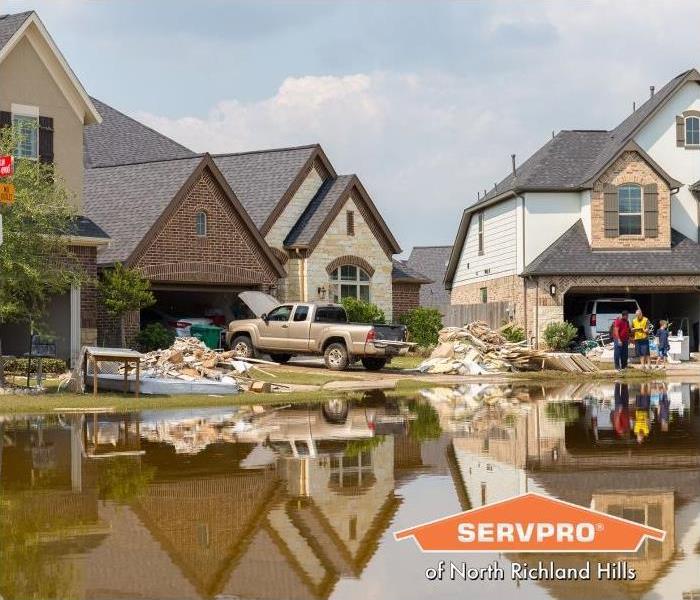 SERVPRO offers professional water damage restoration services to residents and businesses in the Fort Worth area.
Water damage recovery easily becomes an overwhelming responsibility for property owners. Aside from the gallons of water spread over the square footage of your space, you also have drywall, flooring, personal belongings, and sometimes electronics damaged from being soaked.
If you feel like you're in over your head, you're not alone. Many Fort Worth property owners come to the realization that they need the help of a professional to cope with the aftermath of a flood event.
SERVPRO has been helping home and business owners recover from water damage for decades. Time and time again, our team makes it, "Like it never even happened." We work tirelessly to achieve three things: restore the property to preloss condition, prevent secondary damage (like mold growth), and do the entire job with efficiency so you get back to life as usual as soon as possible. The money we save by being efficient is passed on to the customer.
What Makes SERVPRO Different?
You do have your pick from several Fort Worth water damage restoration companies, so why are you in the best hands with SERVPRO?
Round-the-clock service - Emergencies don't take a day off and neither do we. Our emergency contact staff are available year-round, 24 hours a day to take your call - even on weekends and holidays.
Trusted Leader in the industry - We've worked tirelessly to become the top brand in cleaning and restoration. When the public sees a Certified SERVPRO Cleaned sign, they can rest assured that the business is safe and has been thoroughly cleaned.
Expert Specialists - While it's helpful to have decades of experience doing this, that's not all you need to do the job right. Our staff is trained on the latest scientifically-based moisture management methods. We are expert mold fighters.
Comprehensive restoration - Typically, a property owner has to hire more than one service to manage flood damage: at least one company to do the cleaning and another to recover the damage. With SERVPRO you get both. We do a thorough cleaning, mold mitigation, salvage what we can, and repair the rest. No need to hire additional contractors. We do it all.
Insurance approved - We've build a relationship with so many insurance companies because of how many we've worked with over the years. We are the preferred restoration company for many insurance carriers out there. We even work directly with the insurance company on your behalf to streamline the process.
Contact SERVPRO for Fort Worth Water Damage Restoration
We want customers to have peace of mind when they hire a water damage restoration company. That's why we are here to answer any questions you have about the process and provide you a free no-obligation quote. Contact us at (817) 589-1499 any time.