Fort Worth Flood and House Water Damage Repair
3/16/2021 (Permalink)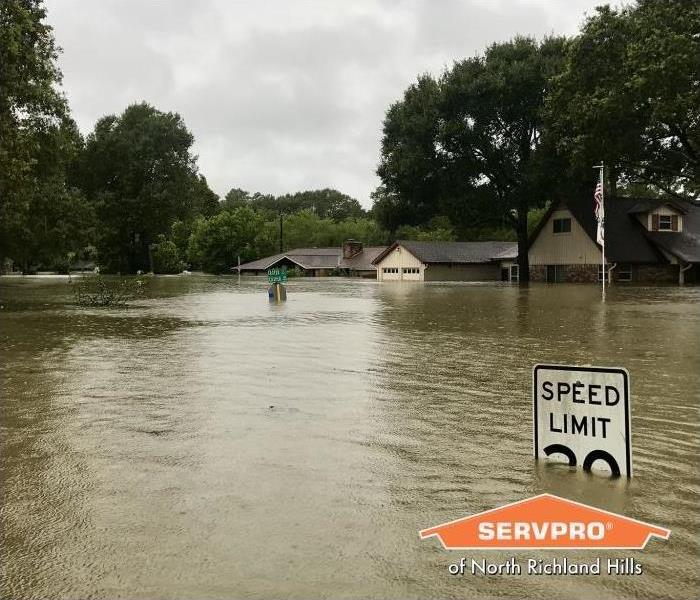 It's important to address water damage in your home as soon as you notice it. Contact SERVPRO for water damage restoration services in Fort Worth.
From the accumulation of water from a leaking appliance to the deluge of full-force flooding, SERVPRO is here for any water damage emergency. We are faster to any size disaster and are on call to assist you around the clock, every day of the year - including weekends and holidays.
Common Causes of Water Damage in Fort Worth
We spend so much time in dry spaces that it's easy to forget that water damage happens. Using water is a part of everyday life, but when water ends up in the wrong places, it quickly ruins materials and personal belongings. Common causes of water damage include:
Storms, rain, and humidity.
Firehoses and fire sprinklers used to douse flames.
A sewage backup into the home or business.
Plumbing problems (overflow from toilets, bathtubs, and sinks or leaking or bursting pipes).
HVAC system problems.
Leaky or broken dishwashers, water heaters, sump pumps, etc.
After three decades of serving the Fort Worth area, we have extensive experience with all the above scenarios and more. Having the best equipment and the best-trained staff available at all times allows us to swiftly tackle any water damage problem.
What do the Signs of Water Damage Look Like?
While some scenarios are obvious like a ceiling caving in or rising waters on the floor, other signs of water damage are understated. Below are other things to watch for around your home or business.
Pools or puddles under out-of-the-way appliances like a water heater or around a basement sump pump.
Walls and ceilings are discolored or spotty.
The floor beneath your feet feels spongy or squeaks.
Sounds of dripping water behind walls or the ceiling.
Appearance or smell of mold and mildew
Sewage smell.
An unexpected spike in your water bill
Our team of water damage experts knows where to look for hidden water damage. Our thorough inspection will uncover how extensive the water damage is so that we can carry out a thorough restoration.
SERVPRO's Water Damage Restoration Process
With SERVPRO's Fort Worth water damage restoration, there is a difference. We use advanced drying methods to eliminate moisture faster and more thoroughly.
Our technicians are specialized in mold remediation and biohazard cleanup. We get close to toxic material so that you don't have to.
Our restoration process prioritizes preservation over replacement. We work to salvage as much as possible and replace what cannot be saved.
Our 6-step plan is structured, yet flexible to fully accommodate any water damage scenario. This plan includes:
Step 2: Inspection and Damage Assessment
Step 3: Water Removal/Water Extraction
Step 4: Drying and Dehumidification
Contact SERVPRO of Fort Worth Today
In all honesty, the longer you wait to address water damage, the more the situation will deteriorate. Rotting materials and mold growth are examples of the secondary damage you can expect from lingering water saturation.
Also to keep in mind is that secondary damage from the original water damage event jeopardizes your insurance claim. The coverage may be fully or partially declined if the property owner doesn't act quickly.
Call (817) 589-1499 to get started on your water damage recovery. We are always here to take your call - even in the middle of the night, even on holidays.