24/7 Emergency Water Damage Restoration Services in Fort Worth
4/5/2021 (Permalink)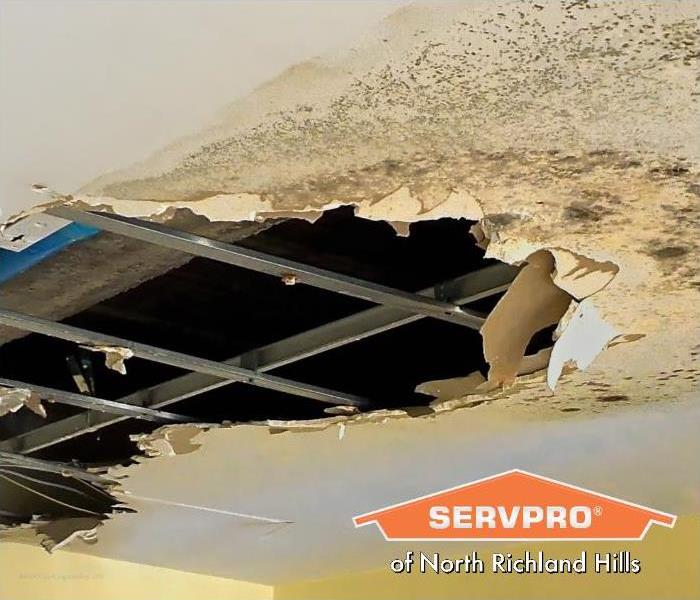 Recieve 24/7 service with our Fort Worth team of experienced professionals. We will restore and repair water damage so you're back to normal ASAP!
Being in the restoration business for over 30 years, we've seen every kind of water damage you can imagine. Any space can become flooded within minutes, and there is only so much recovery you can do with a mop and bucket.
If you encounter water damage to your property we have one very important piece of advice: act quickly. The longer you wait, the more likely it is that secondary damage will develop such as toxic mold growth.
Your Fort Worth SERVPRO is here to restore any size property to its original clean and dry condition.
Water Damage Timeline
How soon does damage happen after contact with water and moisture? It progresses faster than you may think.
Within The First Few Minutes
Water rushes through the space and rapidly saturates everything. Walls, flooring, upholstery, photos, documents, and personal belongings are now soaked and incur minor to severe damage.
Within 24 Hours
Water seems harmless most of the time, but it can severely damage things within a 24-hour cycle.
Construction materials like drywall swell and deteriorate.
Metal surfaces and electronics are altered.
Wooden furniture swells and may crack.
Dyes and inks on cloth or paper bleed and stain.
Between 48 Hours & 1 Week
The longer water saturates materials, the more damage incurs.
Mold and mildew disseminate and cause a musty odor and reduced air quality.
Wooden structures such as doors, window frames, and wall studs begin to swell and warp.
Corrosion develops on metals and electronics. Furniture progresses with warping and mold growth.
Wood flooring becomes misshapen with swelling and warping. Paint blisters and peels.
If the water has mixed with biohazardous material, the contamination worsens to make the living environment increasingly toxic.
In Excess of One Week
The extent of damage has now multiplied and restoration time and costs are likely to be significant as compared to the first day of the water damage event. In many cases, the environment is no longer structurally safe or healthy to dwell in.
Full-Service Restoration
SERVPRO's Fort Worth water damage restoration process is all-inclusive, including reconstruction (when necessary). Our goal is always to make it, "Like it never even happened."
While no two property damage scenarios are alike, our team of IICRC Certified Technicians applies the same steps consistently to ensure we don't miss a single detail of water damage recovery.
Our 6-Step Water Damage Restoration Process
Click each of the links below for details about each step of our comprehensive water damage recovery process.
Step 2: Inspection and Damage Assessment
Step 3: Water Removal/Water Extraction
Step 4: Drying and Dehumidification
Step 5: Cleaning and Sanitizing
Don't Delay, Call SERVPRO of Fort Worth Today
Property owners in Fort Worth, Texas should know that the longer they wait to address water damage, the more costly it will be. If you wait several days you'll have significant damage on your hands, and when you turn to your insurance company for help, they may deny your claim because you allowed secondary damage to happen.
SERVPRO works directly with your insurance company on your behalf to ensure that the recovery process is smooth and hassle-free. Call us at (817) 589-1499 with any questions you have and for free pricing.