How to Keep Your Furniture from Molding in Self-storage Units
11/12/2021 (Permalink)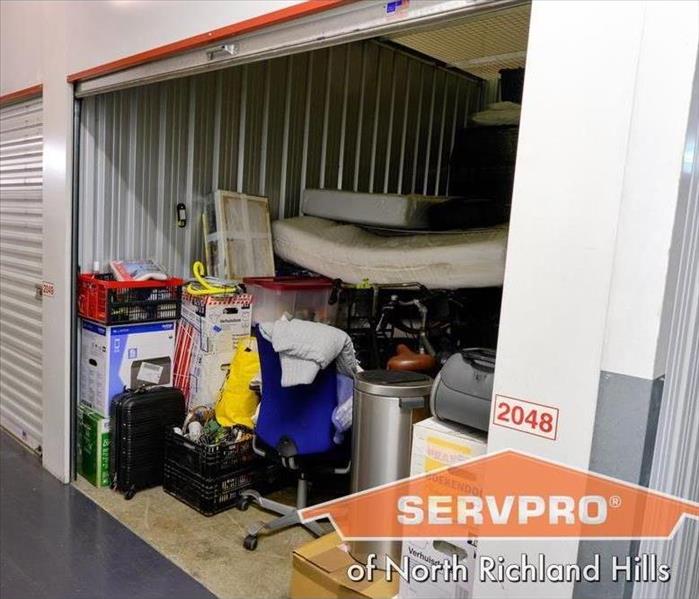 SERVPRO of North Richland Hills mold remediation experts are more than happy to provide these services.
Mold is a home and business owner's worst enemy that grows practically anywhere year-round. And the worst thing about mold is that you can never eliminate it entirely.
Mold spores and particles are always present in the atmosphere. No matter how much maintenance or restoration you do, there will still be some deposits lingering in your home or commercial business. More so, there will always be some lingering on your furniture that you put in self-storage units.
It's easy to forget about your belongings once they're safely tucked away in storage units, simply because we tend to think they're protected from the elements.
The truth, however, is that your furniture can be susceptible to damage in ways you may not think possible inside a storage unit. In some cases, that damage can include mold. Before you realize it, it will spread all across your stored furniture. By then, you'll need to hire someone for Fort Worth mold remediation.
SERVPRO of North Richland Hills mold remediation experts are more than happy to provide these services. But to make sure mold will never strike again, continue reading below to see how you can keep your furniture from molding in self-storage units.
How Do You Control Mold?
It's said that you can't really control Mother Nature. But that's not necessarily true. When it comes to mold, you just need to control the moisture inside your storage unit to prevent its growth.
Moisture is what allows mold to develop and spread. When moisture is in your storage unit, mold will easily grow across your furniture. So, to prevent mold from growing, keeping a dry environment in the unit is a must.
How Do You Control Moisture in a Self-Storage Unit?
There are a few things you can do to control the moisture in your storage unit. They include:
Installing a Moisture Barrier
You can add extra protection to your furniture when you install a moisture barrier inside your storage unit.
By just placing a tarp or plastic sheet on the floor, you provide a barrier that prevents moisture in the floor from seeping into your belongings.
Use Moisture-Absorbing Products
Certain products can absorb moisture from the air and surfaces, such as charcoal briquettes and silica gel packs.
By taking these products and placing them in a fabric pocket, you can place them around the storage unit where they will absorb moisture and help prevent mold growth. Remember to change them periodically, though.
Further Steps You Can Take
Besides controlling the moisture, other steps you can take involve cleaning your furniture and drying it before storage.
You can also store your furniture away from the door and walls since moisture will likely seep in through small crevices under doorways and cracks.
Lastly, another way you can prevent molding on your furniture is by placing items in a way that allows optimal airflow. When choosing a storage unit, choose one that's fairly big enough and provides enough airflow around your furniture pieces.
Molded Furniture? Call SERVPRO Right Away
If your furniture has too much mold for you to handle, let our professionals take care of it. Our staff is trained to provide expert Fort Worth mold remediation services and when we're done, we feel confident you'll be satisfied with our work.
Call us today at (817) 589-1499 or visit our contact page to schedule a free consultation.