Fort Worth Fire Damage Restoration Process
7/30/2020 (Permalink)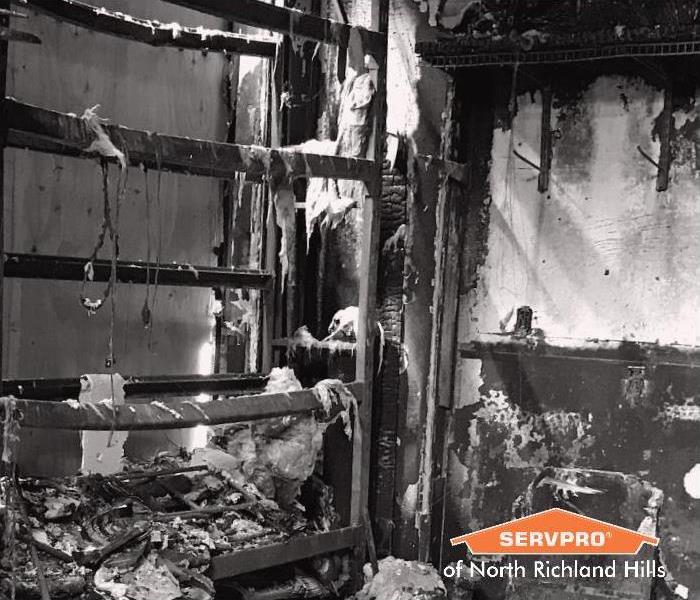 If you've experienced fire damage to your home, call the Fort Worth fire damage restoration experts at SERVPRO.
Fires can happen to anyone and at any time. 80 fire departments in or surrounding the Fort Worth, TX area are prepared to respond when houses and businesses need help.
Did you experience fire damage this year? Maybe a kitchen mishap, 4th of July fireworks on the roof, or (heaven forbid) an electrical fire? Even when the fire happened to the property next door, there may still be damage to yours.
From counting your blessings that the loss wasn't worse, to reeling from extensive damage, you must address the damage right away. Smoke and soot are damaging to property and must be dealt with as soon as possible.
Whether it's sharing our best fire damage tips or coming out to the property for a free evaluation, our SERVPRO franchise in Fort Worth is here for you. We're with you every step of the way through the fire damage restoration process.
How Long Does Fire Damage Restoration Take?
How long a complete fire restoration takes depends on the size of the property, the extent of the damage, and the amount of belongings that need to be recovered.
A smaller dwelling project with moderate damage (like an apartment) takes about a week to complete. However, a home around 3,000 Sq. Ft. (also with moderate damage) needs a few weeks to finish.
During the restoration process, we work to clean and restore your belongings. How many items there are to treat determines how long it takes to get the job done.
For businesses and larger homes, the process can take about a month. Situations with significant loss (like those requiring reconstruction) may need longer than a month and typically involve an insurance claim. When an insurance adjuster is involved, this adds another 2-3 days to the timeline.
Working with a full-service restoration company like SERVPRO has the advantage of a more efficient process. This means we can coordinate the cleaning alongside the reconstruction (when applicable) to minimize the time needed to complete the restoration.
SERVPRO's goal is to get your life back to normal as soon as possible, so we aim to keep the recovery process no longer than a month.
What Does a Fort Worth Fire Damage Restoration Company Do?
External fire damage leaves the structure exposed to further harm from the elements. For instance, rain leads to rotting and mold that make matters worse.
Internally, fires create problems by burning construction materials. The release of toxic chemicals makes the interior environment unhealthy. Then, acid soot seeps into porous surfaces causing permanent discoloration. Damage is also caused by lingering smoke (to electronics, for example).
SERVPRO's Fort Worth area fire damage service professionals are "faster to any disaster." We're here 24/7 to respond immediately after the fire department leaves. The sooner you call, the sooner we can get started to protect your property and its valuable contents from further destruction.
Our Fort Worth Fire Damage Restoration professionals are highly-trained specialists who have the proper equipment to restore your property back to preloss condition.
Our Team of Specialists:
Fire & Smoke Restoration Technician
Odor Control Technician
Upholstery & Fabric Cleaning Technician
Water Damage Restoration Technician
We have a "restore first" mission. So we use specialized equipment and cleaning techniques to recover damaged property so replacement isn't needed. We're glad to know that we've recovered irreplaceable items, so we do our best to make it "Like it never even happened."
Our Fire and Smoke Damage Restoration Process
SERVPRO is upfront about what to expect during the fire damage restoration process. Below is what a typical fire damage procedure entails.
Step 1: First Point of Contact
Fire damage restoration begins when our Customer Care Specialist takes your call at our 24/7 dispatch center.
On this call, we begin the intake process. We ask questions about the event so we can send out our Fort Worth fire damage experts - equipped with everything needed to perform a complete restoration.
Step 2: Inspect and Assess the Fire Damage
To properly outline the necessary fire restoration procedures for your property, we do a complete inspection. Our team is specially trained to assess the true extent of the damage from fire, smoke, and soot. Once we've identified everything that needs attention, we create a plan that addresses every inch of damage.
Step 3: Immediate Protection with Board-Up and Roof-Tarp Service
Should you lose a window, wall, or some of the roof from fire damage, we won't leave your property exposed to the elements or trespassers.
We'll either board up or tarp these areas as soon as possible to prevent an unfortunate situation from becoming worse.
Step 4: Water Removal and Drying (When Water Damage Is Present)
Sometimes restoring property with fire damage involves water removal and drying. Water from fire hoses, fire sprinklers, or attempts by the occupant to snuff the flames will leave a water mess behind.
First, we extract excess water from the property. Then we remove additional water and moisture from the environment with dehumidifiers and ventilation helpers so the entire area is completely dry.
Step 5: Removal of Smoke and Soot from All Surfaces
The most important step in repairing fire-damaged homes and buildings is the thorough and complete removal of smoke and soot, both externally and internally.
We use specialized equipment and expert technique to rid roofs, ceilings, walls, belongings, etc. of the damaging remnants of a fire (including the recovery of documents and photos).
Step 6: Cleaning and Sanitizing
Soot and smoke make everything dirty. That's why we use our expert fire damage cleaning techniques to clean and sanitize it all.
Smoke also leaves a stench behind. We use industrial air scrubbers and fogging to remove smoke and its odor from the environment. You shouldn't have to live with the smell and you won't have to.
Step 7: Restoration
SERVPRO's fire damage services go beyond mere recovery - our goal is full restoration.
We do the necessary repairs to bring the property back to its pre-fire state. This may include drywall replacement, carpet replacement, painting, or major reconstruction. Our team does whatever it takes to make it good as new.
Contact SERVPRO of North Richland Hills Today for Fort Worth Fire Damage Restoration
For over 30 years, SERVPRO of North Richland Hills has carried out complete fire damage repair and restoration numerous times.
Our team is "faster to any size disaster" for fire-damaged homes and businesses. It matters to us that your environment is healthy and comfortable. So our goal is to use our expertise, specialized equipment, and resources to make it "Like it never even happened."
If fire damage happens to your property or the one next door, call us right away at (817) 589-1499. We're here to answer the phone 24/7. The sooner we can get started on the fire damage restoration process, the better. Let's get started today so you can get on with your life ASAP!