How to Safely Dispose of Biohazard Waste in Fort Worth, TX
2/5/2021 (Permalink)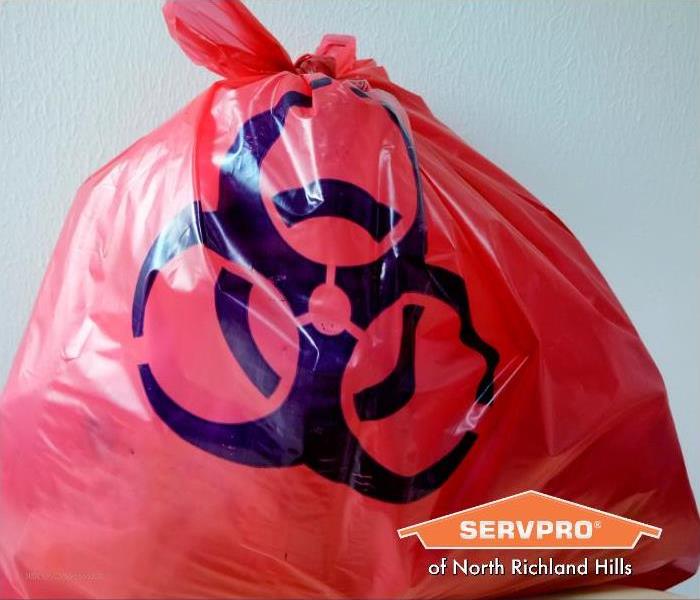 If you're unsure of how to properly dispose of biohazard waste, call the experienced biohazard cleanup professionals at SERVPRO in Fort Worth.
Did you know that the official website for Fort Worth, TX features a waste sorting game? This game reminds citizens that not all waste goes to the same place.
While accidentally putting a banana peel in the recycling bin is a harmless mistake, placing biohazard waste where it doesn't belong is not only illegal but also threatens public health.
Unless you have experience dealing with biohazard waste and access to the proper supplies, you should refrain from doing biohazard cleanup. For your safety and the safety of others, it's best to leave biologically hazardous waste alone so that the professionals can handle it.
What is the Definition of Biohazardous Waste?
Biohazards are any biological material that poses a threat to animals or humans. Biohazards can be present in any environment.
Biohazard waste is any refuse that contains biologically toxic materials or substances that may be infectious (like blood). Because of the risk of disease associated with biohazard waste, any biohazard cleanup should be handled vigilantly.
What is Considered Medical Biohazardous Waste?
Because clinics, hospitals, and labs must obtain and analyze specimens from humans and animals, they will generate medical waste. Not all medical waste qualifies as a biohazard, but some may assume that it is.
For medical waste to be a biohazard, it would have to be infectious or potentially infectious. This means that materials made contact with blood, bodily fluids, or human cell lines.
Medical waste that is classified as biohazardous poses a threat to the environment and public health. Below are some examples of biohazardous medical waste:
"Sharps" - hypodermic needles, blades, or slides.
Cultures, Petri dishes, and other culture flasks that are biologically contaminated.
Any biologically infectious agents.
Some bacteria
Some viruses
Some spores
Live or attenuated vaccines.
Materials that made contact with excretion, exudates, or secretions from bodies infected with an illness.
Any paper products or wipes that have become contaminated by biohazardous materials.
Human or animal blood, blood elements, fluids, or semi-fluids.
Specimens from the human body.
Animal carcasses or body parts that are considered dangerous.
Medical facilities are equipped with the appropriate receptacles marked for biohazard waste disposal.
Examples of Biohazardous Waste
Understanding the nature of biohazardous waste helps you better understand how to best handle its disposal.
Biohazardous waste usually falls into one of the following categories:
Blood - Blood from humans or tissue that contains human blood.
Animal - The whole or a part of a decaying animal carcass.
Bodily fluids - Fluids and secretions from the human body.
Microbiological - Lab materials such as specimen cultures, culture dishes, viruses, and any devices used for the transfer or mixing of cultures.
Pathological - Medical biopsy materials, or anatomical parts that were removed via medical procedures.
"Sharps" - As described earlier, any sharp materials that make contact with biological materials such as blood.
Four Levels of Biohazard Waste
Just as someone would need to know the type of biohazard material they are dealing with, they would also need to understand the level of risk.
Four levels of biohazard waste have been established so that those who are tasked with handling biohazardous materials understand how much caution is warranted. This helps with training those who do biohazard waste disposal on a routine basis.
Biohazard Level I: Considered to be a minimal threat, but nonetheless, any biological agent that would bring harm to humans or the environment. Examples: E. coli., Bacillus subtilis, or Naegleria gruberi.
Biohazard Level II: Considered to be a moderate threat, any biological agent that has the potential to cause severe illness in humans. Such disease would be transmitted through direct contact with the infected material. Examples: Hepatitis B, HIV, or Salmonella.
Biohazard Level III: Considered to be a contagious threat, any pathogen that has the tendency to become airborne and would cause severe illness or disease. Examples: Tuberculosis, Coxiella burnetii, etc.
Biohazard Level IV: Considered to be the highest risk to living beings, any pathogen known to cause a life-threatening disease for which there is no cure. Examples: Ebola virus, Lassa virus, etc.
The greater the level of risk, the more important it is for a well-trained professional to approach the biohazardous materials.
How to Dispose of Biohazard Waste
Two elements are needed to dispose of biohazardous waste properly: persons who are trained on best practices for biohazard disposal, and access to adequate biohazard disposal supplies on hand.
Solid waste - Any material that makes contact with human or animal specimens that is not a "sharp."
Examples: Linens, towels, or used personal protective equipment. This waste is disposed of as regular medical waste and will be sent to a special landfill. Healthcare workers dispose of these in a designated container lined with an autoclave bag with each marked with a biohazard symbol.
Liquid waste - Body fluids or blood that may carry an infectious agent. These are placed in a leakproof container (specified by a hazard label) installed securely so it won't fall over. For added security, these are sometimes placed into an additional container. Autoclaving or bleach treatment may be applied in the presence of a liquid biohazard (except for body fluids or chemical waste).
"Sharps" waste - Medical instruments are thought to be infectious but are also sharp enough to pierce through a plastic bag (needles, microscope slides, scalpels, and broken glass vials). To protect people and animals from injury, these are kept in a container that is resistant to puncture, leakproof, and properly labeled. "Sharps" receptacles will be picked up by a medical waste service provider to be transported to an incineration facility.
Pathological waste - Organs, tissues, and body parts that were removed from a human or animal (such as biopsy material) and may contain infectious agents. To prevent leaks, this waste should be double-bagged and then stored in a secondary container. These are also bound for the incinerator.
Microbiological waste - Culture dishes and specimen cultures, discarded viruses, or devices used to mix cultures from a laboratory that would possibly contain infectious agents or other pathogenic organisms. These materials can be either sanitized onsite by trained personnel or properly disposed of in a storage area designated for biohazard waste.
Biohazard waste receptacles should be marked with the appropriate symbols so they aren't mixed in with or mistaken for other kinds of refuse. These marked bags and containers are then picked up by a professional medical waste company.
The final destination of biohazard waste is an industrial incinerator where these materials can be destroyed so they will no longer pose a threat to life and health. In many cases, incineration is required by health mandate, but some materials are allowed to be remediated with disinfection, chemical treatment, or autoclaving.
Contact SERVPRO for Fort Worth Biohazard Cleanup and Disposal
When in doubt, do not attempt to clean up biohazard waste on your own. The greater the risk level associated with the materials, the more likely it is that trained professionals are needed to ensure the safety and well being of everyone involved.
SERVPRO of North Richland Hills has extensive experience with Fort Worth biohazard cleaning scenarios. Our trained technicians know how to approach biohazardous and infectious waste and will dispose of these toxic materials safely and securely.
We specialize in the following biohazard situations:
Crime scene cleanup or unattended death (Examples: homicides, suicides, accidental death, meth labs, tear gas, etc.).
Cases of C Diff
Homes affected by hoarding
Residential or commercial sewage backup or chemical spills
Property contamination from animals (such as a rodent infestation).
Many of the above scenarios are of a sensitive nature. We understand why clients would not want attention drawn to their property in these situations, so we are prepared to carry out biohazard cleaning services with discretion. One of the ways we do this is to schedule the cleaning for overnight when it's least likely to be noticed.
If you have an overwhelming biohazard situation on your hands, don't risk it. We have the right training and all the materials needed to handle the biohazard situation so that everyone remains safe and sound. Call SERVPRO of North Richland Hills for 24/7 emergency contact at (817) 589-1499.