Dealing with the Aftermath: Winter Storm Damage Repair
3/16/2021 (Permalink)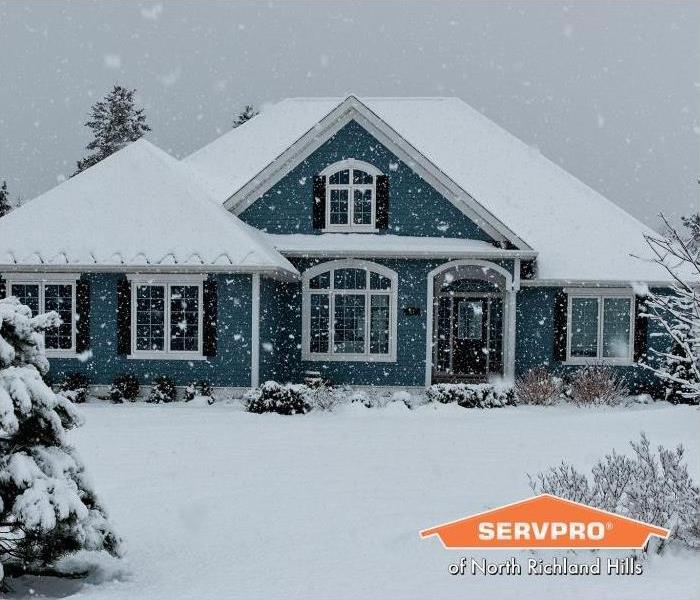 In the aftermath of a winter storm, call our Fort Worth SERVPRO location for professional winter storm damage restoration services.
Being in the "Sunbelt" Texas has never been known for winter weather. However, the longer you live in Texas, the more likely it is that you will see ice and even snow, especially in North Texas.
The news media usually advises us on what to do before a winter storm such as dripping faucets, wrapping outdoor spigots, covering plants, and bringing pets inside. What we don't hear much about is what to do after a winter weather event.
SERVPRO is all about being prepared for any size disaster. Today, we'll briefly cover how to cope with the aftermath of a winter storm event.
Winter Storm Water Damage
Perhaps the most common kind of water damage that happens with a winter storm is from broken pipes. Once frozen pipes begin to warm up again as the surrounding temperature increases, the pressure builds up causing the pipe to burst. When this happens, you'll need to find the main water shut-off valve as soon as possible to stop the flooding.
Water damage happens to the roof of a structure because of ice dams. This happens when the snow melts, then refreezes to create a barrier so the water gets trapped and soaks through roofing and construction material. The roof will need to be repaired as soon as possible.
Winter Storm Fire Damage
A fireplace or gas-fueled appliances help us keep warm on frigid nights. We do our best to be safe with flames burning indoors, but accidents do happen. To avoid injury and illness, you should avoid severely damaged rooms. The more damage there is to a structure, the more likely it is you will need to relocate to temporary housing until repairs can be made.
Winter Storm Wind & Tree Damage
During a winter storm, gusts of wind push snow and sleet around, but it also pushes loos materials around. Roof shingles, roof flashing, and siding are all vulnerable to damage from wind and impact from debris.
Fallen trees also cause damage to structures. Accumulation of ice adds more weight than a tree can withstand, so the trunk and main limbs eventually buckle causing the entire tree to collapse. Roofs, fences, windows, and even utility lines can be damaged from fallen trees. If you spot downed powerlines, stay away and dial 911.
Make the Right Call
Once you've inspected your home for winter storm damage, it's time to call your insurance company and share your findings. Waiting to initiate a claim risks denial of coverage by your insurer.
Next, you'll need a reliable company to complete either Fort Worth water damage restoration or in some cases, fire damage restoration. SERVPRO dispatches to your property immediately to assess the damage and set up protections to prevent secondary damage.
We work with your insurance company on your behalf to make the recovery process as smooth as possible. Call (817) 589-1499 for emergency contact 24 hours a day, 365 days per year - even weekends and holidays.