SERVPRO Specializes in Fort Worth Commercial Restoration and Reconstruction
4/5/2021 (Permalink)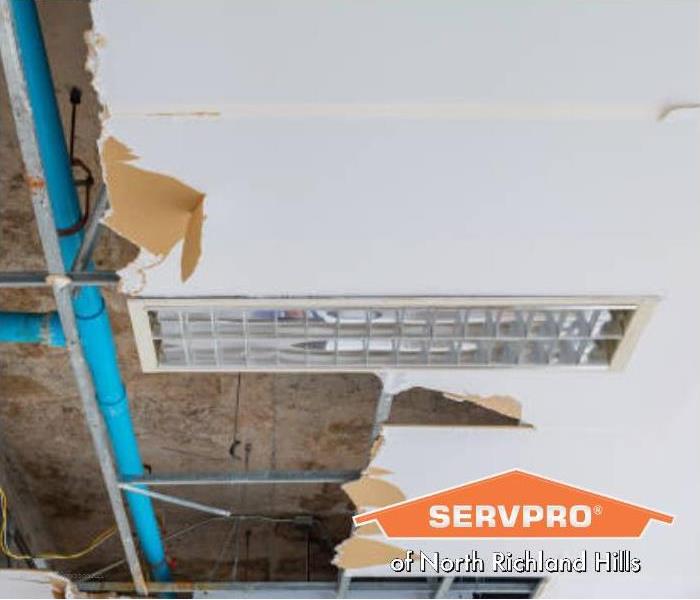 Our team of professionals at SERVPRO of Fort Worth is here to support you in your commercial restoration and reconstruction project.
Any disruption of business comes at a cost. For every hour your business is shut down because of damage to your facilities, you lose revenue and your workers lose hourly pay. Fort Worth SERVPRO understands how every precious second counts until your operations are stabilized. We leverage our decades of experience to get Fort Worth's businesses up and running as soon as possible.
One way we save time and costs is to have one team handle various aspects of the recovery. Rather than hire several contractors and commercial services (which you will need to keep track of), hire just one commercial restoration and reconstruction company to handle it all!
Comprehensive Cleaning
Even if you have a cleaning staff, that's not always enough to cope with emergency cleanup. Cleaning crews are limited on what they can do for a number of reasons such as set work hours, being unqualified to handle biohazard waste, etc.
In many cases, we can clean your facility from floor-to-ceiling in a fraction of the time than your cleaning crew. You need your cleaning staff for maintenance, but we're here to support you for those urgent matters that may arise from time to time.
We clean all surfaces (floors, walls, and everything in between), HVAC systems, and perform mold remediation, and attend to COVID-19 exposure. Our goal is to leave it better than how we found it.
Water Restoration
We use water to clean our hands, dishes, bathrooms, and so much more, but water does make a huge mess sometimes. Our team of water damage specialists know how to quickly assess a water damage situation and come up with the most efficient attack plan.
Water damage emergency management starts with finding the source of the problem. We work tirelessly to make sure no more water gets in to cause further damage. Next, we use high-powered extraction equipment to get every ounce of water out of your facility. We use forceful equipment and advanced drying techniques to rid your pace of any moisture.
We restore your facility to preloss condition be it a replacement of carpet, cleaning of soft goods in our Esporta wash system, or a reconstruction of construction material too soaked to save.
Among our very top priorities is making sure your facility is free of toxic mold. Mold begins to colonize within the first 48 hours of a flooding event, so we get to work to remove moisture so mold doesn't have a chance to take root.
Fire Restoration
Fires are rare, but they come on unexpectedly and can decimate a structure in under an hour. Whether it's a little bit of damage or a lot, fire damage restoration Fort Worth works best when a team of professionals can respond.
We work to remove all damaged objects and materials from the facility. Soot and smoke damage are removed from all surfaces with industrial-grade cleaners to remove all damage from the environment. We replace what can't be salvaged with brand new materials through commercial reconstruction.
Storms and Major Events
Many storms blow through North Texas, especially during the summer months. SERVPRO is ready to respond immediately to disasters caused by strong winds, flooding, tornadoes, and the rarer fire by lightning strike. Commercial water damage restoration and fire damage restoration action steps will be provided accordingly.
Contact SERVPRO For Your Commercial Property Restoration Needs
Whether it's a one-time emergency or an ongoing issue, SERVPRO of Fort Worth is here to support our local businesses (read our testimonials). We work around the clock to work around your schedule to minimize interruption. Call us 24 hours a day, 365 days per year with your questions, or for a free estimate at (817) 589-1499.