How to Prevent Mold in Your Attic
10/29/2021 (Permalink)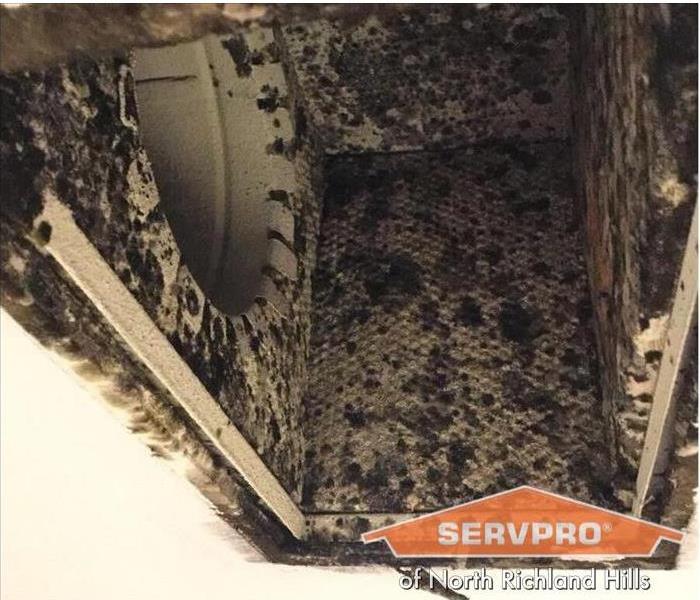 In Fort Worth, storm season brings increased moisture into homes which can sometimes lead to mold. Here's how to prevent it.
After storm season in Fort Worth, water and moisture in walls can sometimes lead to concerns about mold in your home. The idea of mold in your attic can lead to immediate concerns about what this means for your home and your family.
The good news is that it doesn't mean you have to live with mold for the rest of your life. There are certain steps you need to take in order to get rid of the problem once and for all.
At SERVPRO of North Richland Hills, we want you to feel safe and happy in your home, which is why we have prepared the following information you need to know about mold.
What is Mold?
To sum up, mold is a type of fungus that grows on wet surfaces and releases spores into the air.
How Do I Recognize it?
Even though mold can appear in various colors, usually, it is black, grey or green. It should be noted that you might find it on other objects as well, because mold can affect many parts of your house.
What to Do When I Find Mold in My Attic Space?
First of all, you need to find the source of humidity. The best way would be to identify and repair possible leaks in your home – roof, windows, etc.
Mold damage can be identified by the presence of visible mold on surfaces or discoloration.
It is important to act quickly because mold can damage your walls and floors, making them weak. Moreover, if your home is left untreated for an extended period of time, it might lead to serious complications in the long term.
If the problem is not eliminated yet, we recommend that you call our professional mold removal service and ask for help.
How is Mold Treated?
There are many ways to get rid of mold. First, you might want to get rid of the source that causes humidity. For example, if there is a leak in your roof, you need to get it fixed as soon as possible.
Secondly, you should use dehumidifiers and air conditioners to remove the excess moisture in the air. Also, make sure you use fans if it is possible!
If the problem persists, we recommend that you contact our local professional mold removal and odor removal specialists for help.
Just like every other type of treatment, know that there are two methods used by SERVPRO franchises:
Air Spore Treatment (AST). It includes unique equipment that diffuses a microbial agent during the process of mold growth. The best part is that the spores don't damage your property or furniture!
A Life-Cycle Mold Treatment (LCMT). It implies small holes in the drywall and filling them with a sealing compound. If there are bigger damages, you might need to replace some parts of the wall.
While mold can be a serious issue, rest assured that there are ways to remediate any problem areas in your home. Whether you need an initial mold inspection or are ready for remediation services, you can rely on our professional Fort Worth Mold Remediation service team to take care of it so that you can enjoy a healthy and safe living environment. We offer a variety of services, including water damage restoration as well as fire and smoke damage repair. Call (817) 589-1499.