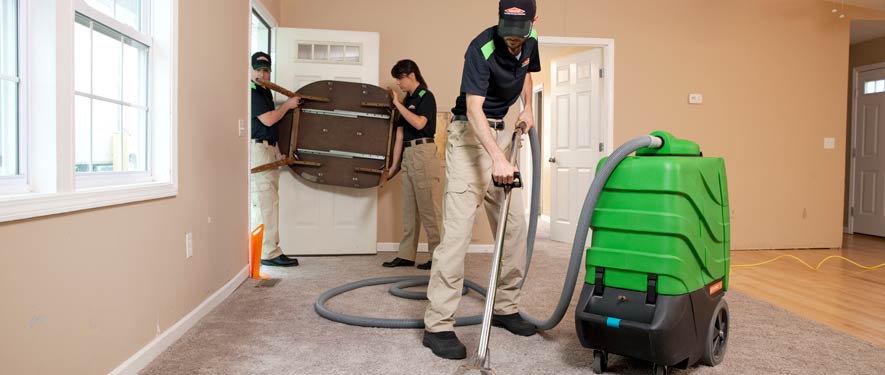 Step 3: Water Removal / Water Extraction
Water Damage Restoration in Fort Worth
When a water damage is too much for a mop and bucket, then a water damage contractor is needed. We provide:


Carpet Restoration. If your carpet can be saved, it's likely that it will have to be lifted so the carpet pad can be removed and replaced. This will also help dry the subfloor to prevent mold growth.
Water Damaged Furniture Cleanup. If the furniture can be salvaged, it'll be cleaned and dried.
Water Damaged Rug Cleaning. Rugs are taken to our rug cleaning facility to be cleaned and dried. After they've been restored, they are delivered to you.
Esporta Textile and Clothes Cleaning. We are one of the few SERVPROs in Fort Worth that is certified to clean water damaged clothes to food-grade safe.
We're a Full-Service SERVPRO in Fort Worth
Some restoration companies will only handle water removal, others will only handle cleaning, and others will only handle the construction.
We handle 100% of your property's restoration needs.
Our ability to handle all of our client's full water restoration is one reason we are the preferred damage restoration company by many insurance companies.
Our water removal process is the best in the restoration industry. It has been honed over decades of experience with the latest water extraction tools and property drying techniques.
We Provide Water Damage Restoration Near You
Call or contact us anytime for a free water removal estimate.
More Water Restoration Steps
Move-Out / Pack-Out
If your home requires extensive restoration or cleaning, SERVPRO of North Richland Hills can conduct an organized, efficient move-out to protect your belongings from further damage.
Emergency Water Removal
Our highly trained technicians will begin the water removal process almost immediately. Depending on the amount of water, we may use powerful submersible pumps in addition to industrial strength, wet/dry vacuums. Removing most of the water helps reduce drying time and helps prevent secondary water damage and mold and bacterial growth.
Remove Excess Water
Use Submersible Pumps and Industrial Wet/Dry Vacuums
Inspect the Carpet Pad and Carpet
We inspect the carpet and pad and determine if they should be removed to protect the subfloor.
Inspect Carpet Pad and Remove If Needed
Inspect Carpet and Remove If Needed
Water Removal Equipment
Moisture detectors, hygrometers, and other meters measure the extent of moisture saturation.
Infrared cameras may be used to find "hidden" water behind walls and ceilings.
Submersible and gas-powered pumps are used for continuous pumping of high-level water.
Truck-mounted and portable extraction units perform efficient water removal.